How to set up out-of-hours customer support?
4 Ways to Provide Great Customer Service with Least Investment!
A business revolves around customers. It produces products and delivers services to please their customers. In turn, they invest their money and resources. To earn profits, a business must ensure the highest level of customer satisfaction. Then only, they will prefer doing business with you rather than switching to others. And, providing great service is the glue to bind your customers. This idea serves as the motivation to improve customer support.
Customer support plays a crucial role in differentiating an organisation from others. In fact, reports suggest that 57% of consumers expect the same response time and high-level service at night and on weekends as during normal business hours.
But, it can be a real struggle for the companies to provide 24×7 customer support. They need to go out-of-way to deliver out-of-hours support. It may also lead to increased costs. Then the question is – Should a business provide out-of-hours support? Well, obviously it should! There is no option in this world of Internet and technology.
According to the UKCSI report, 27.6% of customers preferred premium service. 14.2% indicated a strong preference for "no frills" service. The remaining customers, 58.2%, favour a balance of price and quality of service.
It is the right of the customers to get complete support and flawless customer service considering the advancements in technology and convenience offered by the digitalization. Then, the question is – How companies should get going with their round-the-clock support with minimum or no investment? The answer lies in the correct use of tools and techniques.
Explore the following cost-effective options to set up out-of-hours support to improve customer support:
Self-Help and Product Library
Many customers prefer self-help or self-service to get a solution. It's quite beneficial for the companies as well. The use of self-help mediums reduces the cost of direct calls. Also, it decreases the workload of the support agents. But, the companies should note that these self-help channels are self-sufficient. They should serve the purpose to help the customers at any point rather than confusing them.
It is a wise move to build a knowledge-rich product library to allow customers to help themselves. They can use self-service apps or FAQ section to gain knowledge about their query. Self-help channel and product library should address common concerns, in-depth product knowledge, know-how's, and detailed processes. This may be available in the form of textual documents and video tutorials. The more comprehensive your self-service section is it will be easier to implement out-of-hours support.
Clear Communication
The foremost thing is not to hide things from the customers. Don't do fake promises of providing great customer service and then turn them down. It is always better to be clear. A business should divide its level of support. It should delegate the work between a different set of employees and inform the customers about the point of contact during different hours or situations.
It is better to communicate hours of support clearly to the customers. Also, emergency contact persons' email and number should be given. If it's not possible to be always there, then a company should at least have few employees who can answer the queries on urgent basis. They can also mention when the customer support will be online again. Thereafter, the concerned team should get back to solve the issue. Clarity works well!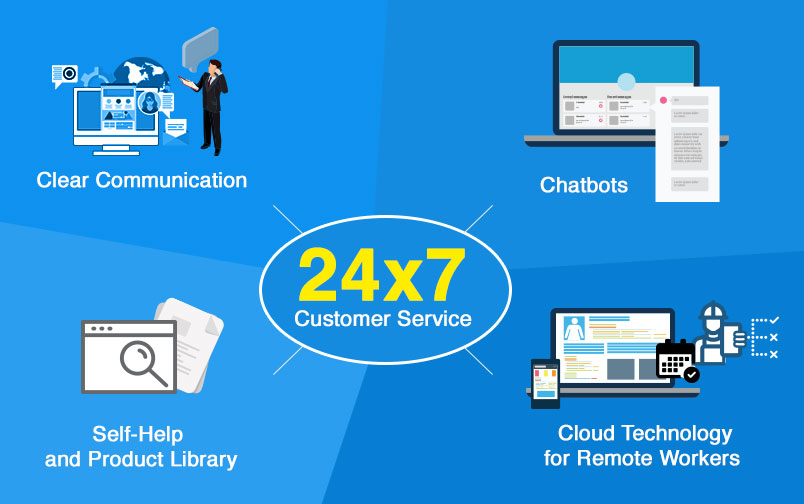 Chatbots
The use of Chatbots is gaining popularity. In one of our posts, we covered the four key areas of the public sector where they can integrate the Chatbot technology to improve services. In essence, Chatbots are the virtual agents. A business may choose to use the virtual agents to gather initial information and provide 1st line support. Chatbots can be used to set up out-of-hours support without having the need for actual agents.
A recent LiveChat report established that customers' demand for live chat features increased by 8.3% in 2017. Chatbots can answer common questions based on their AI capabilities and knowledge base. For higher-level questions requiring human intervention, the Chatbots can gather information and queue it up for the agents. And, the agents when available can address the concern. Chatbots can also serve as a point of assurance for the customers to acknowledge that the company has received their query.
Integrated Software Applications
'Digital Workspace' is becoming common among various businesses. Due to the wide range of benefits including increased availability, productivity, and effectiveness, many companies consider working with remote employees. A business can take the help of integrated software applications. It facilitates collaborating with the remote employees. It will enable them to share updates and deliver great customer service.
In a nutshell, these applications are cloud-based platforms. Companies can hire employees across geographical areas to suit different time zones for 24/7 customer support. These employees can deliver the work and share the same with other teams using the platform. It eases the workload and establishes standard response. Also, the bespoke software contains all the history of customer communication. So, it becomes easier for the agents to give uniform and accurate answers.
The ABC Rule – Availability, Barriers, Cloud!
The companies eyeing great customer service should abide by the ABC rule. Focus on 'Availability' and be available to deal with the customers whenever they need you. Break the 'Barriers' of channels, time, location and information. Serve them well. Take the help of 'Cloud' and Chatbot technology to delegate, share and coordinate work without any dependency or heavy investment. In turn, there are various advantages to the business to improve customer support:
Gain a competitive edge
Build credibility
Reduce customer churn rate
Increase customer satisfaction
Enhance employee productivity
Create a brand image
Increase profits and revenues
Be present across geographical boundaries
Up-selling and Cross-selling opportunities
If you're there for your customers, they will be there to help you maintain your business.
Be Customers' Favourite!