4 Ways to Increase Mobile Workforce Productivity
Grow your business with 'Empowered & Happy' Employees!
Mobility is no more a new concept. Businesses are going digital. From customer's point of view, a business goes the extra mile to please and retain them with the help of digital avenues. But, it's not possible to achieve significant growth until the transformation touches the overall working environment. In a nutshell, it's time to change the pace of work when it comes to the mobile workforce.
There are around 20 million field service technicians across the globe. It indicates how widespread the industry is. In fact, reports suggest that the Global Field Service Management (FSM) Market is growing at a CAGR of 16.5% & is estimated to reach $4.45 billion by 2022.
Factors leading to the popularity of mobile workforce are increasing customer expectations, market competition, the millennial workforce, use of smartphones, quality of service, increasing service demands, advancement of technologies like IoT, AI, etc.
The tasks of a mobile workforce are not limited only to their defined jobs. There are many impromptu and unpredictable things on the way whilst they are in the field. It has adverse effects on their productivity levels. Moreover, they are away from the office, which further adds to their struggle to seek help.
The workers experience different problems that include-
Lack of communication
Safety risks
Sudden changes in schedule
Uncertain routes
Micro-management by supervisors
Lack of coordination with back-office
Time wasted in administrative work
Separateness from the business
Lack of clarity in work
Lesser involvement in decisions
A business expects high efficiency as well as productivity. On the other side, customers expect faster resolution and instant updates. Mobile workers have a hard time crunching the numbers. Listing four ways to enhance the mobile workforce productivity-
1. Artificial Intelligence & its real benefits
Technology is advancing with each passing day. There is always more to gain if a business utilizes the right technology for the right purpose. Artificial intelligence has found its place in various business applications. AI-based solutions help the businesses to make accurate decisions and support proactive maintenance. The actionable insights empower the mobile workforce to resolve issues faster. Artificial intelligence help in scheduling jobs based on priorities. It's no more a guesswork that leads to repeated visits or wrong assignment.
Also, with the increasing number of IoT-based devices, AI will have a significant impact on machine-to-machine communication. AI also enables informed decisions. Enable your mobile workforce to leverage the benefits of artificial intelligence. AI analyses millions of data pieces. It allocates the jobs to the right people according to the right priority sequence. The workforce is guided well to do their job with the help of mobile applications. Thereby, AI works in favour of enhancing their productivity.
2. Gamification & the game of KPIs
A healthy competition is necessary. It not only promotes the spirit of cooperation but also helps the business to achieve goals. A company can use gamification techniques to enhance the mobile workforce productivity. It will help them to be more active. Gamification in the form of targets, amount of work per day, team goals, incentives, customer feedback scores, etc. can help to ignite the zeal to do work. In addition to that, it will give a clear idea of the work.
These factors also contribute to achieve KPI (Key Performance Indicators) and meet the promised agreements (SLAs). An integrated application will show the time-to-time results via the dashboards. Many service organisations use different gamification techniques to boost their mobile workforce productivity. It serves as a strong motivator to achieve the desired outcome. But, make sure it's not intense to create animosity.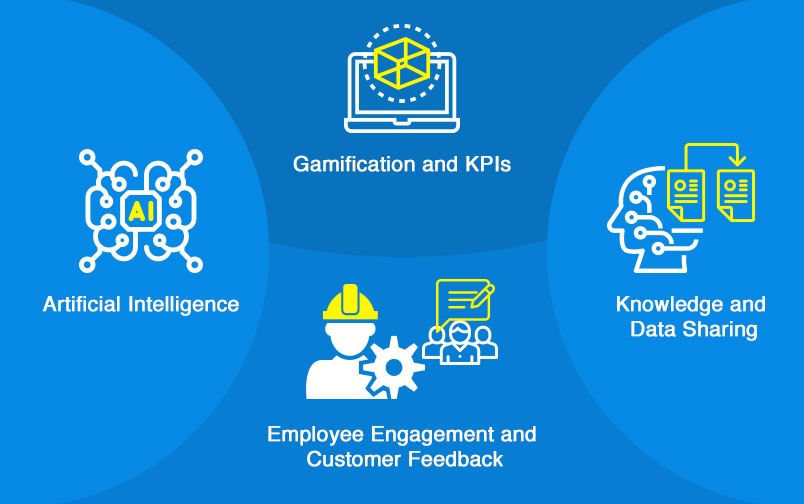 3. Knowledge & Data sharing
Data is an essential element of a business. Passing the knowledge from experienced to new workers plays a key role in mobile workforce productivity. Well-trained and knowledgeable personnel will be able to do effective work. It's advisable for an organisation to capture the data and pass it on the workforce at the right time. On-the-job training is smooth & precise with rich knowledge-base, text documents, and video tutorials. Knowledge sharing helps to meet the challenges of the aging workforce and new joiners.
Forget the paper-based methods of data collection. Instead, companies should make use of centralised data sharing capabilities to enable seamless synchronization of job status updates. A mobile worker should be able to access, view, search, share and update the data. Cloud-based applications allow data sharing in real-time. It results in improved collaboration. Everyone in the team is aware of the pending work. Thus, the workers will not be stuck in waiting to receive or share information.
4. The Employee Engagement Culture
A business focuses to be customer-centric. In course, it might oversee the problems of the employees. It leads to unhappy employees and thus inefficient results. So, it's mandatory for the companies to take care of its employees especially when they are remote and distributed. Often the mobile workforce feels left out as they are not chained to their desks. In such a situation, they may not give their 100% to their work.
Focus on employee engagement strategies. It can be in the form of constant communication, weekly meetings, social gatherings and talking regularly to know if they're facing any problems. Make the mobile workforce aware of the customer feedback as well to let them improve their work. They may not be around and miss many business announcements. But, make sure to communicate and make them feel a part of the team. Engaged workforce yields the greatest productivity!
The Power of Productivity leads to Profitability!
More than 70% of service companies will look forward to adopting dedicated mobile working solutions in the next four years. The main motivator behind this move is 'productivity'. Firms expecting high productivity levels need to invest in smart solutions that promise guaranteed returns. The impact of technology will only increase over time. So, it's going to be tougher to hit the nail on the head.
Besides that, they also need to keep their workforce engaged. Productive workforce can be a game changer. If they are happy, they will be efficient at work. If the results are effective, customers will be satisfied. Hence, the revenues will increase. Connect with us to know more about the agile workforce solutions.
Pay attention to the mobile workforce productivity!