How to choose the right Data Management Platform?
Deciphering the business benefits of DMP!
Can we imagine running a modern business without data? Possibly No! In this digital economy, data is the lifeline of a business. Data has the potential to help a business organise its processes and plan the strategies to deliver the most effective outcome. It plays a key role in all business environments, regardless of the type and size.
We live in the world of connected devices. Every minute there is a stream of data. It depends on the organisation to find a way to make most of the data. There are various tools to achieve this goal of optimum data utilisation. One of them is the Data Management Platform or DMP. This post will cover the introduction to DPM, its benefits, and considerations for choosing the right DMP for a business.
What is DMP?
Data management platform is a tool to collect, segment and analyse data to optimise, target and initiate campaigns to the right audience. In simple terms, it provides a centralised data management and sorting capabilities. A business has more control over its customer data.
DMP collects data from first-party sources like mobile applications, website, online transactions, CRM software, subscription lists, etc. used by the company to manage customers. It also captures data from third-party sources like internet interactions and external organisations.
DMP finds its applications majorly in targeting customers with personalised content. It merges data from disparate online and offline sources in a centralised repository. Then, data is segmented to provide a further clarity on different sets of consumers and their buying behavior. These actions are then analysed to create effective campaigns to interact with the consumers. It helps them to improve their reach and ROI.
What are the benefits of using DMP?
Managing data has become more than necessary. As more and more businesses get into e-commerce and online marketing, leveraging data will get them going. Listing the actual advantages of DMP for a business-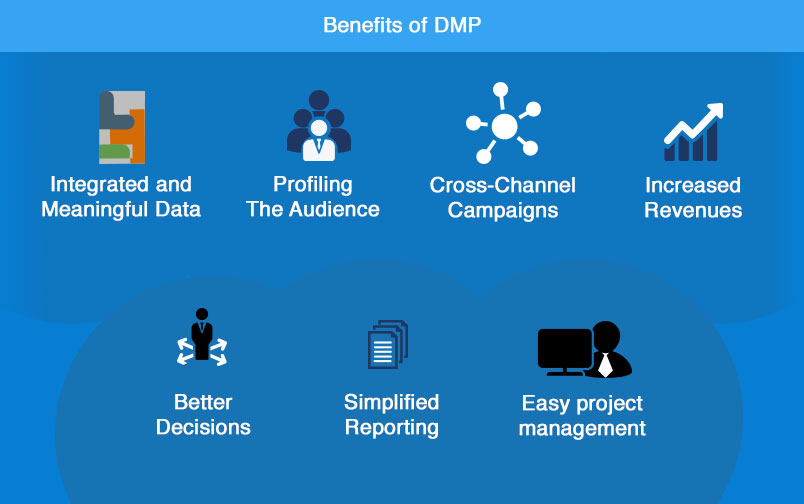 1. Integrated and Meaningful Data
Data is useful only if it's organised in the required format. It adds a value only if it spawns meaningful insights. With DMP, data from disparate sources (online and offline) are put together to generate a 360-degree view. This data provides a clear picture of how well your campaigns are placed and how consumers are reacting to them.
2. Profiling The Audience
There is no point in sending messages if the targeted audience doesn't find it useful at all. DMP offers segmenting the audience based on certain similarities, their behavior, past interactions and other parameters. This classification comes handy to target a specific audience as per their interests.
3. Cross-Channel Campaigns
DMP helps to identify a customer with unique ID across various channels. DMP data attributes give valuable insights to optimise cross-channel and cross-device campaigns. Cross-channel attribution presents the effectiveness of online ads, search results, and email campaigns. Cross-device attribution gives an understanding of individual customer's behavior.
4. Increased Revenues
One of the most important business benefits of using DMP is higher revenues. More focused campaigns yield effective conversions. The budget spending is utilised in the most efficient way. Time and efforts are put in the right direction targeting the right people with the right content. DMP increases brand visibility and response rates.
5. Better Decisions
A business can prosper with better and informed decisions. Data management platform helps in decision-making. With look-alike modelling, it is easier to target new prospects. For existing customers, DMP offers deep insights creating opportunities for upselling. It also helps you take futuristic decisions according to the business trends.
6. Simplified Reporting
DMP helps to track the progress and know the statistics. It generates standard and custom reports without manual intervention. Seamless integration with different systems offers a collective set of reports. The concerned teams can measure and compare campaigns and their impact.
7. Easy project management
Identifying and solving issues for a smooth project lifecycle is possible with DMP. You can own and control your data. It helps your campaigns to evolve and take a better turn with time at each stage of the project. Besides that, it supports long-term growth goals. Data remains secure.
How to identify the best DMP solution for your business?
Considering the plethora of options available, the confusion is quite obvious. But, it is better to take some time and be wise than regret later. For a business organisation, it is a crucial decision to zero-down on a particular data management platform. To make it a bit easier, we suggest looking for the following main features-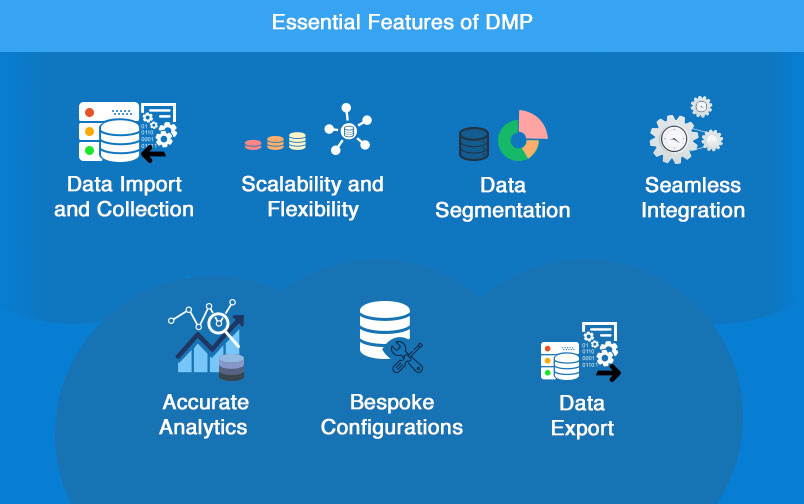 1. Data Import and Collection
The primary function of a data management platform is collecting data. It should be able to import data from online and offline sources. Data collection should be a hassle-free process. It should consider all the input channels, organise in a standard format and in a centralised database where authorised users can access it.  
2. Scalability and Flexibility
There is no end to data. As the technology advances, there are more connected devices, more channels, and more ways to communicate and offer services. An ideal DMP solution should be able to scale to capture billions of data. It should offer flexible options to meet the company's requirements. Focus on less complicated structures.
3. Data Segmentation
The intent behind employing a DMP is delivering effective campaigns by making use of the data. A data management platform should serve this purpose. It should facilitate segmenting captured data in terms of demographic, geographic, behavioral, and psychographic distinctions. An effective and clear classification holds the key to craft tailored content.
4. Seamless Integration
Data integration is necessary to ensure consistency. The solution in consideration should offer seamless integration capabilities. Integrating third-party systems, other enterprise or CRM applications should not be a big deal. Also, any form of integration should not affect the performance of the platform as a whole.
5. Accurate Analytics
A DMP solution should be able to analyse the unrestricted set of attributes pertaining to the collected data. It is an essential factor to understand and monitor customer journeys. Accurate analysis gives a better awareness of customers' interests. A company should be able to harness the benefits of comparing and improving campaigns through this analytics.
6. Bespoke Configurations
Every data management platform consists of a package of general functionalities. Yet, there should be a scope of bespoke features. There may be rules-based actions. It may vary differently for different industries. On the other side, the features should include creating and delivering personalised content.
7. Data Export
It should be possible to activate the segmented and analysed data into various networks and targeted systems. The businesses should be able to push and utilise the data in real-time. The platform should support unified data transfer to the concerned agencies.    
Hold the power of DATA
According to Gartner Reports, by 2020-
Consumers' past, current, and real-time behavior will impact over 50% of consumer mobile interactions to create contextualized, "hyperpersonal" experiences.

More than 40% of all data analytics projects will relate to one or more aspects of the customer experience.
Thus, the future is going to be all 'DATA'stic. The early you embrace this fact and strategise your data management plans, the more you can gain from it. It will give you a competitive edge. A data management platform will make businesses powerful by giving them more control. But, don't be in haste. Apart from the above-mentioned features, it is critical to analyse your business needs, pricing and local vendor support while choosing a data management platform. To know how our solution helped our clients to redefine their data management strategy, request a demo with us!
Do it right with DMP!